Truxor Amphibian Toolcarriers
Truxor Amphibian Toolcarriers distributed in Australia by Australian Catchment Management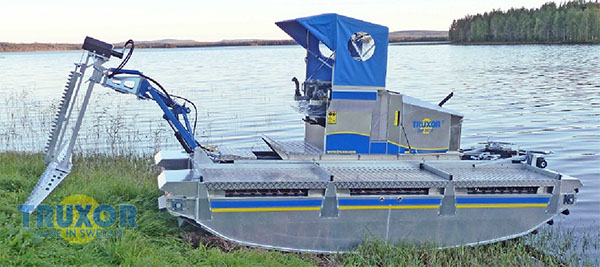 Truxor DM 5000 is a result of more than 18 years of experience,
development, and production of amphibian machinery. Truxor DM 5000 is a professional working machine with good performance and good capacity. The torque limiter equipped hydraulic pump makes it possible to work with tools that require a lot of power.
Since 2014, the machine has been equipped with a new control system based on a CAN bus technology that makes the machine easier to drive and provides more functions.
New hydraulic system
Stronger machine
New steering system
Motor: Kubota D1305 diesel 29.1 hp / 3000 rpm.
Environmental class Interim TIER 4 / Stage 3 A. Euro class 3 Built-in stop function if engine overheats or oil pressure is too low. Since 2014, the machine has been equipped with a maximum gradient warning system, and the diesel motor cuts out automatically if the maximum gradient is exceeded.
Cooling system: Combined radiator for motor and hydraulic system. Radiator air intake with filter (prevents dirt in radiator cells).
Driver seat: Ergonomically designed, adjustable driver seat with an electrically heated seat, foldable cab, and adjustable steering.
Electrical system: 12 V, 40 A generator, 45 Ah battery.
Dashboard: rpm, motor temperature, control lights, hydraulic oil temperature, hydraulic pressure, and fuel gauge.
Hydraulic system: Hydraulic tank 53 litres, volume of hydraulic system 70 liters. Load-sensitive hydraulic pump, torque 76 Nm.
Control system: CAN bus signal-based technology (new for 2014).
Left joystick:For driving the machine.
Hydraulic outlet 1 – working pressure 140 bar, adjustable flow 0-20 l/min. Hydraulic outlet 2 – working pressure 130 bar, adjustable flow 0-11 l/min.
Right joystick: Lifting, tilting, weight distribution. Hydraulic outlet 3 – working pressure 150 bar. Adjustable flow 0-50 l/min, 16.6 hk
Driving speed: 0-100 m/min.
Front lift: Lifting power 250 kg, DM bracket for fast exchange of tools.
Caterpillar track: (paddle track) of textile.
Material: Pontoons manufactured of saltwater-resistant aluminium. Hot-dip galvanised steel structure.
Dimensions: Length 4.7 m, width 2.06, height 2.1 m.
Weight: 1,390 kg.
Equipment:4 pcs of work lighting, service tools.
Truxor DM 5000 is supplied CE marked. Truxor DM 5000 Art no. 94-5000
Option: Hydraulic eco-friendly oil, Panolin (70 litres) to replace standard hydraulic oil. Art. No. 94-10HLP46